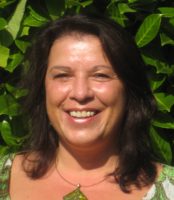 Anne-Marie Carratu
CNHC ITEC CThA FHT City & Guilds
Anne-Marie Carratu joined the Full Circle Therapy Team in 2017. She is a Reiki therapist in the Haematology and Bone Marrow Transplant unit at St George's hospital. Anne-Marie is Vice Chair of the UK Reiki Federation and Secretary to the Reiki Council. She is also registered with the Complementary & Natural Healthcare Council (CNHC), Federation of Holistic Therapists (FHT) and the Complementary Therapists Association (CThA). Anne-Marie also holds a qualification in Holistic Massage.
Anne-Marie's Reiki journey began in 2002 with level one in Usui Shiki Ryoho, taking level two in 2003. Inspired by the positive changes Reiki brought to her own life, Anne-Marie continued her Reiki learning to become a Reiki Master Teacher in 2006. She has a very busy Reiki practice in Surrey from where she both teaches all levels of Reiki and offers treatments.
Anne-Marie is a passionate Reiki Master Teacher and Practitioner, holding both teaching and assessor qualifications, with a desire to help as many people as possible achieve a state of wellbeing. As part of this passion, Anne-Marie is a member of an All-Party Parliamentary Group for Integrated Healthcare, which meets regularly at the House of Commons, where she promotes the benefits of integrating Reiki into the current conventional health system.
Anne-Marie is also Chair of The Sutton Complementary Health Network representing 24 therapists offering treatments across 29 different therapies, a position she finds very rewarding.
Anne-Marie says: "I am delighted, privileged and honoured to be part of the Full Circle team of therapists working at St George's, offering Reiki. It is an opportunity to offer support and relief to those people experiencing a very difficult time in their lives, where hopefully they can feel some benefit from receiving a relaxing treatment."
For more information, visit Anne-Marie's website